MoneyIsland
Travel to MoneyIsland and save Stone Broke! Kids will enjoy this multi-level game that teaches them financial skills while having fun. Players get a physical passport to enhance the experience, and can earn real-life rewards as they progress through the levels!
Developed by an award-winning teacher, MoneyIsland teaches children basic money management skills that can help them throughout their lives. Parents and teachers can come along too — so travel to MoneyIsland today!
Summary

Free, multi-level online game

Ideal for kids ages 8 to 14

Teaches valuable financial skills

Enhance experience with a physical passport and stickers

Kids can earn real-life rewards

Parents can play along

Teachers can use it in classroom

Meets national standards for financial literacy

Developed by an award-winning teacher




How It Works

The Game

Kids learn the principles of financial responsibility and decision-making first-hand through interactive missions in this exciting online world. These young financial apprentices direct the actions of characters to save Stone Broke, a young man who's unfortunately down on his luck due to his poor financial circumstances. Children have the ultimate control in steering him toward financial well-being by choosing better spending habits — picking up on valuable lessons along the way!




Rewards

Not only are good spending habits learned, they are reinforced with the chance to earn real-life rewards for game achievements. Parents, guardians, and teachers control reward guidelines and possibilities.




Learn more about the rewards available to your young saver.




Passport

On top of tracking their progress virtually, children can also do so in real-life with their MoneyIsland Passport. Each breakthrough earns a stamp in their passport, marked by colorful stickers that reflect the images, characters, and lessons learned in the game. It also provides a wonderful opportunity for grown-ups to interact with kids, tracking their progress and watching each milestone materialize into real-life achievements.

Lessons

Though geared toward tweens ages 8 to 14, the lessons instilled in MoneyIsland will serve the players throughout their adult life.




The curriculum in MoneyIsland is aligned with national standards published by the Jump$tart Coalition for Personal Financial Literacy. MoneyIsland is designed to build skills in three basic areas: Managing Money, Saving & Investing, and Using Credit Wisely.




The lessons are presented in quests to exotic places, including:




Eiffel Tower - Spend, Grow, and Give

Great Wall of China - Want & Needs and Taxes

Sphinx - Types of Income

Atlantis - Using Credit Wisely

Big Ben - Understanding Interest

Acropolis - Building Wealth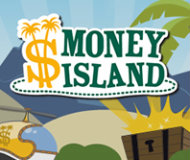 Join GeoVista!
Become a member in just minutes to start enjoying the huge advantages! Learn More