Vacation Club
Georgia probably won't see much snow this year. So if your heart's set on skiing the slopes...you'll need a vacation.
No matter your vacation dreams, open a GeoVista Vacation Club to help make them a reality. It helps you save little by little throughout the year. So when vacation time comes around, there's no holding back.
Summary

Competitive dividends paid quarterly

No monthly service fee

Save independently from safety net savings

Set up direct deposits for easier saving

No minimum balance requirement

One withdrawal per quarter

No minimum deposit to open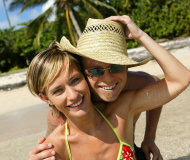 Join GeoVista!
Become a member to start enjoying the huge advantages! Learn More