Pocket Cents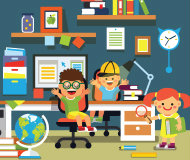 Pocket Cents
Take advantage of free games that make financial education fun!
We know the words "financial education" are not the most exciting words to hear -- but financial education can be exciting with Pocket Cents! The site offers a variety of free, interactive games that let you have fun while building a sound financial future.
Kids especially will benefit from games designed to help them form a positive relationship with money. These include an Oregon Trail®-type game that encourages wise spending, earning money to build a magical world, and more!
Pocket Cents also offers a variety of financial education resources for people of all ages.
GeoVista does not collect or use underage members' personal information through this website.
Join GeoVista!
Become a member to start enjoying the huge advantages! Learn More