World of Cents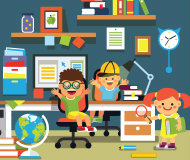 World of Cents
Take advantage of free games that make financial education fun!
World of Cents is a fun and engaging, kid-friendly game for ages 5 and up designed to help teach the value of money through the concepts of earning, saving and spending money, while incorporating basic math concepts.
World of Cents also offers a variety of financial education resources for people of all ages.
GeoVista does not collect or use underage members' personal information through this website.
Join GeoVista!
Become a member to start enjoying the huge advantages! Learn More