e-Statements
Nothing is more frustrating than needing something but not being able to access it. Thankfully, your account records are always at your fingertips with free online e-Statements.
Instead of sorting through giant piles of paperwork, simply go online for instant details. E-Statements also minimize the threat of identity theft by eliminating your info-sensitive paper trail. Simplify your life by going paperless today!
Summary

Arrive faster than paper statements

Free option with GeoVista accounts

Eliminate clutter and simplify recordkeeping

Easier to retrieve when needed

Eliminate paper waste and protect environment

Available securely anywhere with internet access

Up to 9 months past statements stored online

Easily download and save for permanent storage

Easily print out paper copy when needed

More secure than paper statements

Protection against identity thieves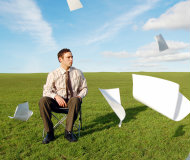 Join GeoVista!
Become a member to start enjoying the huge advantages! Learn More