Shared Branching
There are many things to consider when moving or traveling across country. The last thing you want to worry about is how and where you'll handle your banking needs.
GeoVista Credit Union is a Shared Branch Institution, meaning we share facilities all across the country with other compatible institutions. So no matter where in the U.S. you go, you'll have a convenient home-away-from-home for making transactions.
Summary

The following services are available at all Shared Branch institutions:

Deposits

Withdrawals

Loan Payments

Transfers between accounts

Money orders, travelers checks and official checks* available for purchase

You will simply need the following:

Your home credit union's name – GeoVista Credit Union

Your account number

Valid, government-issued photo ID (State Driver's License, US Passport)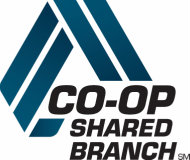 Join GeoVista!
Become a member to start enjoying the huge advantages! Learn More