Christmas Club
It seems like every year, you're cruising along then BAM—out of nowhere it's December!
By opening a Christmas Club savings account, you are able to save little by little for the upcoming holiday season. Instead of resorting to the plastic, you are simply adding money on your own terms. Start now, and take your gifting to another level.
Summary

Competitive dividends on entire balance

No monthly service fee

No minimum balance requirement

Saver for holidays throughout year

Set up direct deposits for easier saving

Funds disbursed in October—just in time for the holidays

$5 fee for early withdrawal

No minimum deposit to open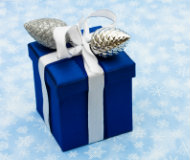 Join GeoVista!
Become a member to start enjoying the huge advantages! Learn More