Savasaurus Club
GeoVista's Savasaurus Club is a fun and interactive way to teach kids the value of saving. Sammy the Savasaurus motivates children to grow their savings through fun activities and prizes for making smart choices.
Sammy may not be the first dinosaur to teach kids, but he goes further than singing ABC's. Sammy believes it's never too early to build a child's money smarts and future saving habits.
Summary

No monthly service fee

$5 minimum balance to maintain

Earns dividends on entire balance

Teaches kids good savings habits

Instills the values of saving

Fun activities and prizes

$5 minimum deposit to open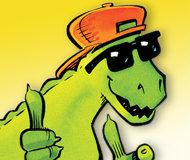 Join GeoVista!
Become a member to start enjoying the huge advantages! Learn More