Auto Loans
With so many things to consider when purchasing a vehicle, one less worry is where to get your auto loan. Seriously, as a not-for-profit institution, GeoVista exists to get our members the lowest possible loan rates available.
Getting pre-approval for an auto loan is fast and easy, offering you additional bargaining power at a dealership. With no need to shop around for a great rate, you can spend more time shopping for the car of your dreams.
Summary

Low interest rates
Fast, easy approvals
New and used vehicles
Terms up to 7 years (certain restrictions apply)
Pre-qualification available
Loans for purchase from dealer or individual

Recreation Vehicles

So maybe that boat or personal watercraft isn't exactly a necessity, but to us it is no less important. We offer low rates on recreation vehicles too.

New and used boats and recreation vehicles
Terms up to 10 years for RVs and motor homes
Terms up to 7 years for boats
Terms up to 5 years for new personal watercrafts

GAP

Guaranteed Asset Protection (GAP) is the best thing since Georgia peaches if you're ever in a situation where you truly need it. Basically, if your car is totaled or stolen, and you still owe more on the loan balance than the insurance will pay, GAP will pay the rest of the loan.

Guaranteed Auto Protection protects you from these scary scenarios and will even cover your auto insurance deductible up to $500.

No separate payments; low cost can be rolled into auto loan
Pays difference between what insurance covers and what you still owe
Will cover insurance deductible up to $500

Payment Protection

Credit Insurance may make your loan payments when you can't

Life can be wonderful. But it can also get complicated when unexpected things happen. Protecting your loan payments against the unexpected such as a disability or covered life event including dismemberment could help you protect more than your finances. It could help lighten the burden for the people you care about. Insure your loan payments today so you can worry a little less about tomorrow.

There's no way to predict an injury, illness or other unexpected life event. You can take steps to protect your family if the unforeseen happens. Credit disability and credit life insurance may help reduce or pay off your covered loan or make your monthly loan payment, up to the policy maximum, in the event of a covered life event, injury, illness or death.

You decide which payments you want to protect and the monthly premium may be added to your loan. Coverage is designed to fit your lifestyle, it is totally voluntary, and it won't affect your loan approval. It's simple to apply for individual or joint coverage. You can sign up for credit insurance at your loan closing, or anytime you'd like. Call GeoVista Credit Union at 912-368-2477 to find out more, or visit www.GeoVistaCU.com.

Car Buying Tips

If you need a car loan, buy a car you can afford:

Think about the payment you can afford, and your credit union will calculate the purchase price range for you
Think about the insurance cost – especially for sport cars or luxury cars
Get preapproved for your loan from your credit union. This will put you in a position to negotiate with the seller

Knowledge is power:

Research the car you want to buy:

New cars have a Manufacturers Suggested Retail Price or MSRP

Your goal is to find the invoice price
Check for available Rebates

Used cars have a Trade & Retail value

Find the value and don't overpay

You can find out all kind of useful information online using:

NADA.com
Edmunds.com
Kelley Blue Book - KBB.com
Consumer Reports
CARFAX reports

If you are trading a car, know the trade value and the payoff amount if you still have an outstanding loan

Don't mention your trade until you negotiated the price on your purchase
It is best to pay off your current loan first or you could end up with an upside-down car loan; ask your credit union for details

Used cars should be checked by a mechanic
Make sure the car has a 'good' title and is not salvaged or rebuilt

Shop around:

It makes sense to search online for your car. There are valuable resources such as
Shopping online is more convenient than to visit multiple dealerships. You can increase your geographical search radius

Always test drive the car and check for all advertised features

Check tire profile – replacing tires are an added expense

Check for maintenance records if available
Check the mileage, on average a car is driven 12K – 15K per year

High mileage decreases market value

Consider additional fees

Taxes and processing fees are added to your purchase at dealerships
Private sales have taxes due at time of registration in many states
Backend products, such as credit insurance, GAP insurance or extended service plans could be offered by the dealer and your credit union

GAP Insurance goes into effect if your car is totaled. The GAP insurance is designed to pay the difference (up to a cap) between what your full coverage insurance will pay and you remaining loan balance

Example: Your car is totaled and is valued at $8,000 and you owe $10,000 – the GAP insurance may cover the entire remaining balance or part of it.

GAP insurance may be voided with loan skips or late payments
GAP insurance is often less expensive at your credit union

Extended service plans, often called extended warranties, offered by the dealership are often more expensive than at your credit union

Finally: Avoid Impulse Buying or Pressure

Enjoy your new ride and make your payment on time to build a strong credit history.

Don't be scammed!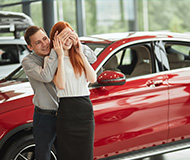 Join GeoVista!
Become a member to start enjoying the huge advantages! Learn More