Home Mortgages
You don't buy a house on a whim, and you shouldn't pick your mortgage provider on a whim either. As a not-for-profit institution, we exist to provide the lowest possible rates and guidance when you need it the most.
Enjoy local decision-making and a smooth efficient process. Spend less time worrying about the paperwork, and more time envisioning the perfect wrap-around porch.
Summary

Competitive rates
Wide range of options and terms:
VA Loans Available
FHA Loans Available
Conventional Loans Available
USDA Loans Available
Local decision-making
Free pre-qualification to increase buying power
Secondary housing loans (cabin, retreat, second home)
Streamlined process and on-time closings
Personalized service every step of the way

GeoVista Federal Credit Union, NMLS #593756

(aka: GeoVista Credit Union)

Reba Maloata, NMLS #640894

Ken Williams, NMLS #849220

To learn more, please contact us.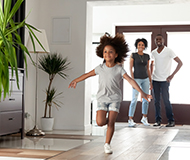 Join GeoVista!
Become a member to start enjoying the huge advantages! Learn More