Visa Debit Card
It's nice to know that you can go anywhere and still pay for whatever you need without your checkbook in tow.
Members at GeoVista Credit Union receive a free Visa® debit card. This card is directly linked to your checking account. Use it anywhere Visa® is accepted.
Forgot your PIN number? No worries! Call 800 757-9848 to reset your Personal Identification Number.
Summary

Free with GeoVista checking accounts

No service fees or payments

Easier and safer than cash or check

Funds deducted directly from your checking account

Use worldwide anywhere Visa is accepted

Withdraw cash from ATMs

Easily replaced if lost or stolen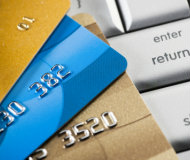 Join GeoVista!
Become a member to start enjoying the huge advantages! Learn More