Mobile Banking & Apps
When You're on the Go, We'll Go with You.
Secure, convenient, anytime access to your accounts.
Access your GeoVista CU accounts securely and conveniently
anytime, anywhere, using your mobile device.
All you need to get started is an eligible account and a mobile device that can send and receive text messages and/or access to the Internet.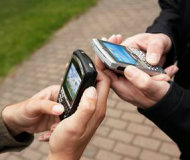 Join GeoVista!
Become a member to start enjoying the huge advantages! Learn More