Online Bill Payer
Break free from the shackles of your checkbook, stamps, and filing cabinets. Pay your bills online to save time and money.
With our free Online Bill Payer, you can pay all of your bills from anywhere at any time with a mere click of the mouse. This service is 100% free to members with a checking account. So start making life that much easier today!
Summary

Free for members with a checking account

Eliminate postage fees

Pay all bills through one screen

Save time and effort

Reduce paper waste

Highest level of security

Fast & easy 24/7 access

Pay bills, companies, and individuals

Set up recurring payments

Schedule payments in advance

Make one-time payments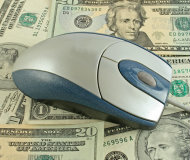 Join GeoVista!
Become a member to start enjoying the huge advantages! Learn More